Billboard Hot 100 Singles Chart [20.08] (2022)
A Billboard Hot 100 é a tabela musical padrão dos Estados Unidos que avalia a lista das cem músicas mais vendidas no decorrer de uma semana, publicada pela revista Billboard.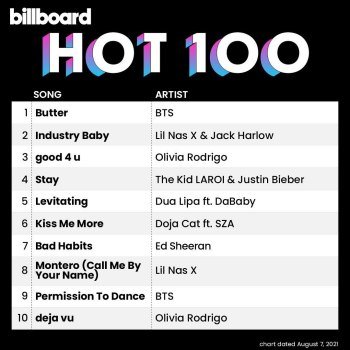 Billboard Hot 100 Singles Chart [20.08] (2022)
001. Beyoncé - BREAK MY SOUL
002. Harry Styles - As It Was
003. Lizzo - About Damn Time
004. Kate Bush - Running Up That Hill (A Deal With God) (2018 Remaster)
005. DJ Khaled, Drake, Lil Baby - STAYING ALIVE (feat. Drake & Lil Baby)
006. Steve Lacy - Bad Habit
007. Future, Drake, Tems - WAIT FOR U (feat. Drake & Tems)
008. Nicky Youre, Dazy - Sunroof
009. Jack Harlow - First Class
010. benny blanco, BTS, Snoop Dogg - Bad Decisions
Gênero: Pop, Dance, Rock, Hip-Hop, RnB, Country
Artista: Vários
Formato: Mp3
Qualidade: 320 Kbps
Tamanho: 740 Mb
Dica: Veja como Baixar arquivos grandes no Mega: Consulte o Vídeo
! Se o link estiver quebrado, deixe um comentário.
Consertaremos o mais rápido possível.