Billy Vaughn E Sua Orquestra (1968)
Sucessos do maestro, arranjador e compositor Billy Vaughn, lançado no Brasil em 1968 pela gravadora Premier.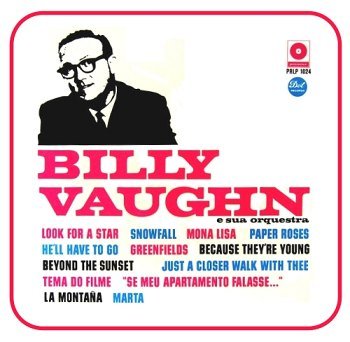 Billy Vaughn E Sua Orquestra (1968)
01. Look for a star (do filme "O Circo dos Horrores")
02. Snowfall
03. Monalisa
04. Paper roses
05. Greenfields
06. Beyound the sunset
07. Because they're young
08. He'll have to go
09. The apartment (do filme "Se meu apartamento falasse")
10. La montana
11. Just a closer walk with thee
12. Marta
Gênero: Jazz, Pop, Easy Listening, Big Band
Artista: Vários
Formato: Mp3
Qualidade: 320 Kbps
Tamanho: 65.7 Mb
Dica: Veja como Baixar arquivos grandes no Mega: Consulte o Vídeo
! Se o link estiver quebrado, deixe um comentário.
Consertaremos o mais rápido possível.