Coleção Istoé Músicas Ganhadoras Do Oscar (2000)
Coletânea Músicas Ganhadoras do Oscar de Melhor Canção de 1934 a 1994, lançada pela Revista IstoÉ em 2000.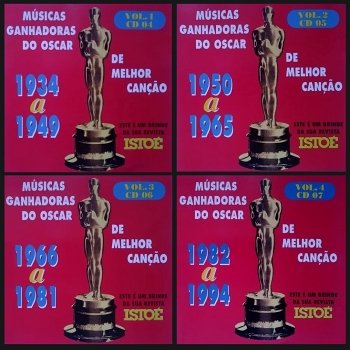 Coleção Istoé Músicas Ganhadoras Do Oscar (2000)
CD 1
01. 1934: The Continental (The Gay Divorce) [Frank Sinatra]
02. 1935: Lullaby Of Broadway (The Golddiggers Of 1935) [Doris Day]
03. 1936: The Way You Look Tonight (Swing Time) [Frank Sinatra]
04. 1937: Sweet Leilani (Wakiki Wedding) [Bing Crosby]
05. 1938: Thanks For The Memory (The Big Broadcast Of 1938) [Cal Tjader]
06. 1939: Over The Rainbows (The Wizard Of Oz) [Judy Garland]
07. 1940: When You Wish Upon A Star (Pinocchio) [Cliff Edwards]
08. 1941: The Last Time I Saw Paris (Lady Be Good) [Kate Smith]
09. 1942: White Christmas (Holiday Inn) [Bing Crosby]
10. 1943: You'll Never Know (Hello Frisco, Hello) [Vera Lynn]
Gênero: Jazz, Pop, Folk, World & Country, Stage & Screen, Soundtrack
Artista: Vários
Formato: Mp3
Qualidade: 320 Kbps
Tamanho: 468 Mb
Dica: Veja como Baixar arquivos grandes no Mega: Consulte o Vídeo
! Se o link estiver quebrado, deixe um comentário.
Consertaremos o mais rápido possível.