GPS Speed and Compass v24.0.4 Premium
Uma bússola e velocímetro GPS simples e sem confusão.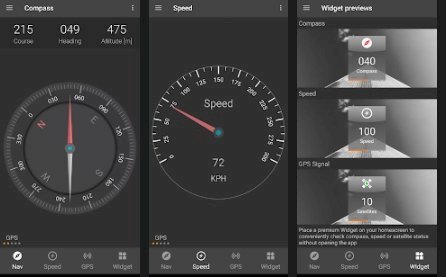 GPS Speed and Compass oferece estatísticas úteis sobre disponibilidade, sinal e precisão do satélite. A funcionalidade do aplicativo também está disponível em widgets da tela inicial de fácil utilização.
Características:
. Bússola.
. Velocímetro.
. Estatísticas de navegação - Curso, Altitude, Latitude e Longitude.
. Estatísticas de satélite - Sinal, Almanaque, Efemérides, Azimute, Tempo e precisão de correção.
. Widget conveniente para estatísticas de bússola, velocidade e satélite.
Novidades: Bugs corrigidos
Requerimentos: Android 7.0+
Tamanho: 4.0 Mb
! Link quebrado? Deixe um comentário para consertarmos.