Tela Quente (1999)
Coletânea lançada em 1999 pela Som Livre.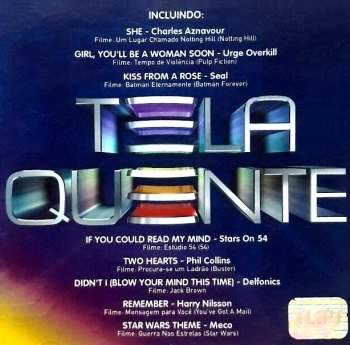 Tela Quente (1999)
01. She - Charles Aznavour (Um Lugar Chamado Nothing Hill)
02. Girl, You'll Be A Woman Soon - Urge Overkill (Pulp Fiction: Tempo de Violência)
03. Kiss From A Rose - Seal (Batman Eternamente)
04. If You Could Read My Mind - Stars On 54 (Estúdio 54)
05. Two Hearts - Phil Collins (Procura-se Um Ladrão)
06. Didn't I (Blow Your Mind This Time) - Delfonics (Jack Brown)
07. Remember - Harry Nilsson (Mensagem Para Você)
08. Maneater - Daryl Hall & John Oates (Noiva em Fuga)
09. Dream Baby - Hootie & The Blowfish (A Cor da Fúria)
10. Across The Universe - Fiona Apple (A Vida em Preto e Branco)
Gênero: Pop, Stage & Screen
Artista: Vários
Formato: Mp3
Qualidade: 320 Kbps
Tamanho: 128 Mb
Dica: Veja como Baixar arquivos grandes no Mega: Consulte o Vídeo
! Se o link estiver quebrado, deixe um comentário.
Consertaremos o mais rápido possível.